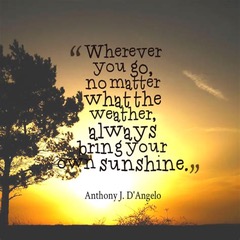 What would you say, if someone asks:
"What impresses you the most about Europe?"
The fantastic Architecture!
The amazing History!
The great Culture!
The unprecedented Collections of Fine Art!
Savoir vivre!
The astounding unity in utmost cultural diversity!
The cradel of humanity's most valuable treasure: Classical Music.
Derek Walcott, Nobel Prize winner for literature in 1992, answered:
"People are talking about the weather all the time."
Gulp.
What?
The author Walcott was born in Saint Lucia, a beautiful island in the Caribbean.
This means sunshine, sunshine and more sunshine, 12 months a year.
And also palm trees, turquoise ocean reflections and exotic birds 365 days.
Something many Europeans dream about!
In all of our clouds, rains, storms, showers and snow we ware fascinated by stable sunny conditions. And beach rats of the tropics are intrigued by all this changing humidity, cloud formations, magnetism and lights.
Humans are truly wonderous creatures. When we can choose between celebrating what we do have we choose dreaming about what we don't have.
Martin Luther King jr. did not say: Oh my God, thanks for all the good stuff in my life!
He famously said: "I have a dream."
The question is always: What happens next?
What if Walcott decides to move to Paris. Would the weather still be fascinating after 4 months of rain, icy conditions and smog all winter long?
Or would he go home to Saint Lucia, take his flip flops and sunglasses out and praise the sun for shining so nicely all day long, all year round?
I don't know about you.
But still, my answer would be: The best about Europe is classical music…
😊
Much love,
Anselma
Get news and FREE resources for a happy, music loving life:
tips & tricks for great teaching, inspiration, psychology clues, insanely practical ideas and other freaky bassoon stuff.