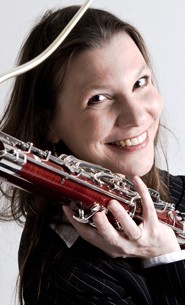 Education: academic studies of music and field research in drinking coffee
Passions: fancy harmonies | reading books under trees | optimizing anything whatsoever| dancing Salsa | encouraging people | philosophizing with friends | going beyond personal limits
Always searching for: the ultimate improvisation | great people | something to optimise | clues and tricks for composing
---
long & boring version:
Born to an international family in Styria, Austria, Anselma Veit studied violin, bassoon (performing artist) and piano (piano teacher) at the Music Universities Graz and Vienna, The Mozarteum Salzburg. As a guest student she studied at the Conservatoire National Supérieur de Paris and took Postgraduate Masterclasses in New York City. She made further studies in jazz-composition (piano and arrangement) with Monika Lang. Anselma graduated in all studies with distinction and highest scores.
Anselma Veit started playing the bassoon at the age of 20 and won her first orchestral position four years later. She has played with the Trier Philharmonic Orchestra, the Volksoper in Vienna, the Augsburg Philharmonic Orchestra, the Vienna Chamber Orchestra and in the Vienna State Opera Orchestra.
She qualified for getting grants from the Mozarteum Salzburg, from the European Union (Erasmus Stipendium) and twice from the Banff Centre for the Arts, Canada. Playing concerts brought her around the globe via plane, ferry, Shinkansen, Transsibirian Railway and fishing boat (for small islands). And to weird concert places such as a tennis court with wooden floor in New Delhi, India, a ship dock in La Spezia, Italy or between air conditioners on a shopping mall rooftop in Brasilia, Brasil.
Indoors she played in many beautiful locations like The Konzerthaus am Gendarmenmarkt, Berlin, Germany, Bolshoi Zal, St. Petersburg, Russia, in the John F. Kennedy Center in Washington DC, USA, in the Goldener Saal of Wiener Musikverein, at the Tokyo Metropolitan Theatre, Japan, the all wooden Sibelius Hall in Lahti, Finland, the stunning Franz Luszt Academy in Budapest and in the Shanghai Grand Theater, China.
After a performance in Princeton University she was allowed to see J.S. Bach's portrait (in the private living room of a millionaire). Anselma played Schubert in an orange Indian Sari and Tschaikovskys 1812 Overture with real cannon shots on the Red Square in Moskow, Russia with Valery Gergiev, a quite american Rhapsodie espagnole with Dennis Russel Davies, a very lively "Isolde's Love Death" with Sir Simon Rattle and a saturnalian Jupiter Symphony with Sir Colin Davis.
For many years she has been teaching the bassoon in the Music School of the City of Vienna. Anselma's students are regularly prize winners in national kids and youth competitions. She successfully prepared young musicians to studying the bassoon as a pro at the University for Music. Being a teacher she noticed a need for some fresh air in the student literature. So she started composing and testing new methods. Xerox copies of her works were on high demand. To make these new books available for a bigger audience and not just locally she started a publishing company.
Anselma publishes music and essays about being human and other bothersome stuff since 2009. She has written commissioned pieces for private individuals and organisations such as the Australasian Double Reed Society, Anciuti Music Festival Italy and Jeunesses Musicales Suisse. She was featured by the International Double Reed Society (IDRS) under the title "The Return of User Friendly Bassoon Tunes" and in the famous Fou the basson French Magazine. Her bassoon expertise was showcased by the German Stretta Music Journal to guide young music lovers to their instrument of choice.
Anselmas Music has been nominated the Export Grant by the European Union and Anselma's artistic work is sponsored by Moosmann Fagotte. Her sheet music and compositions for oboe and bassoon are  part of the nationwide French Music curriculum every year since 2015 and recommended by the Confédération Musicale de France (CMF).
Currently Anselma Veit is the head of Musikschule 1010 – Privatschule in Vienna. Privately she is a real happy camper. Being married for more than 20 years to the best man in the world. A bassoonist of course…