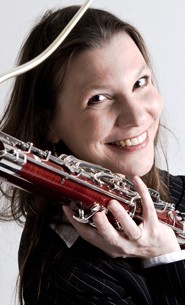 Education: academic studies of music and field research in drinking coffee
Passions: fancy harmonies | reading books under trees | optimizing anything whatsoever| dancing Salsa | encouraging people | philosophizing with friends | going beyond personal limits
Always searching for: raw vegan recipies | the ultimate improvisation | great people | something to optimise | composition clues and tricks
---
long & boring version:
Anselma Veit studied violin, bassoon and music pedagogy (majoring in piano) at the Music Universities in Salzburg, the Mozarteum and Vienna, as a guest student at the Conservatoire National Supérieur de Paris and privately in New York City. She made further studies in jazz-composition (piano and arrangement) with Monika Lang. She graduated in all studies with distinction and highest scores.
Anselma Veit started playing the bassoon at the age of 20 and won her first orchestral position four years later. She has played with the Trier Philharmonic Orchestra, the Volksoper in Vienna, the Augsburg Philharmonic Orchestra, the Vienna Chamber Orchestra and in the Vienna State Opera Orchestra.
She qualified for getting grants from the Mozarteum Salzburg, from the European Union (Erasmus Stipendium) and the Banff Centre for the Arts, Canada. Moreover, Anselma Veit holds qualifications in writing copy and she is NOT a morning person. She put up several websites on her own, including this one.
For many years she has been teaching the bassoon in the Vienna State Music School. Umong her students are a bunch of brave and stunning prize winners in national kids and youth competitions in solo performance and in chamber music. She successfully prepared young people to studying the bassoon as a pro at the University for Music, Vienna.
Anselma publishes essays about teaching, practicing, being human and other bothersome stuff. She has written commissioned pieces for private individuals and organisations such as the Australasian Double Reed Society, Anciuti Music Festival Italy and Jeunesses Musicales Suisse. Her sheet music and compositions for oboe and bassoon are recommended by the Confédération Musicale de France (CMF).